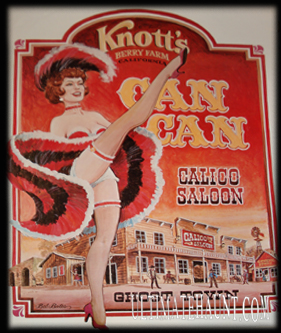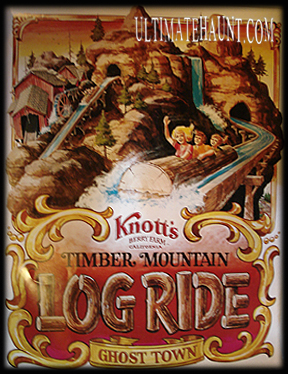 Who is Bob Bates you ask? Well, he certainly has made his mark in the world of Knott's Berry Farm, as you will soon see. Bob worked for several years as a freelance advertising artist for Knott's Berry Farm. His artwork can still be seen in a couple of places at the park to this day.
However, at one time his artwork could be seen throughout almost everywhere at the park.
Bob not only contributed artwork for souvenir maps as well as the free handout maps, he designed artwork for everything from the front Knott's Berry Farm marquee in the 1970's through the artwork for the paychecks handed out to Knott's Berry Farm employees.
The work that may be most popular that Bob did for Knott's Berry Farm was a line of ride/attraction posters that were not only displayed in the park but also available for purchase by customers. The posters included rides such as the Timber Mountain Log Ride, the Calico Mine Ride, Sky Jump, the Wacky Soap Box Racers, the Bumpercars, the Stagecoach, the Calico Saloon and many more. Bob's work is pure Americana and is a perfect match in conveying the essence of America's First Theme Park.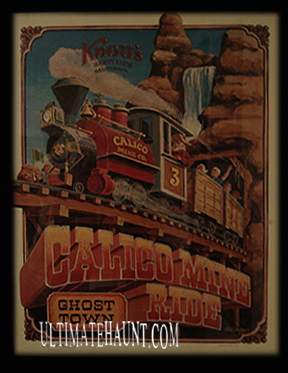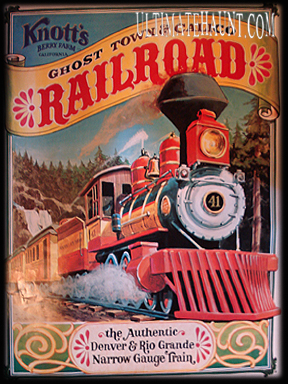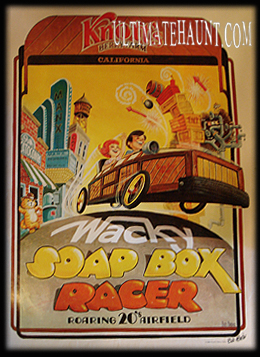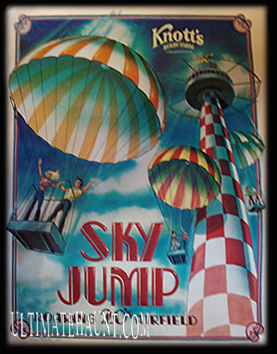 The artwork displayed on Bob's ride posters absolutely captures the innocence, adventure, romance and most importantly, fun that Knott's Berry Farm continues to offer. The style and detail of Bob's artwork also captures a frame of time in Knott's Berry Farm's history that is no longer present at the park. The artwork is a snapshot of a more innocent time in not only Knott's Berry Farm history, but society as a whole.
As time marched on, fewer and fewer shops at Knott's Berry Farm carried Bob's wonderful posters that were for sale all over the park throughout the 1980's.
Thankfully, in recent years, Knott's Berry Farm reissued the ride and attraction posters on souvenir keychains, mugs and magnets. page
Meeting Bob Bates was such a pleasure and a complete honor. On how he first became interested in art, he indicates,
"We're going way back! I started to draw when I was very young…seven years old. By the time I was ten, I just couldn't put a pencil down. I knew then I wanted to be an artist.
From there I took as many courses in art at school as I could. I went to junior college out of the service and then I went to a commercial school where I learned advertising.
Now, for over 50 years, I have made my living mainly through advertising art".
His relationship with Knott's Berry Farm began quite simply and that very relationship snowballed very suddenly:
"In those days I ran a very small advertisement in the Yellow Pages. A printer called and asked if I could design a paycheck for one of his customers….So he introduced me to Knott's Berry Farm and I designed their check. They continued to use this check design for almost 30-40 years.
After that, I met other people at the park and over night, they turned into my best customer. I started doing everything for the Farm; everything from these posters, souvenir maps, menus, their tickets and a lot of their advertising.
The wall map was a big effort. The fun thing about it was that I need to get some aerial shots. So, they would run me up on the parachute ride and lower me about every 10 feet and would stop so I could take Polaroid pictures of the area. . A lot of what I worked with were the aerial shots plus walking around the Farm. I would go around with a sketch pad and sketch areas to make sure I had the right thing in the right place.
It was a challenge that I loved. I really enjoyed doing that map. You can almost see my love of art in it".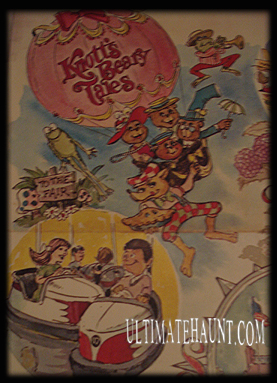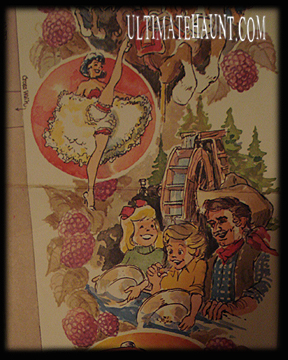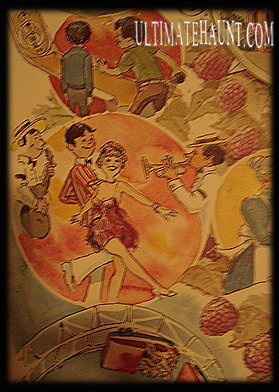 As you can see, it is very apparent that Bob's love for art shines through the faces and details of this wonderful artwork.
Now, Bob Bates may be fun for you Knott's Berry Farm fans out there, but we can't exclude his involvement with the Halloween Haunt on a website such as Ultimatehaunt.com.
Along with his work for the Farm,
Bob also designed the tickets for the earlier Haunts as well as the very famous "Halloween Haunt" logo still used today.
"By the time the time the Haunt rolled around, they were my best customer. They liked my work and used me on many things.
One time they actually asked if I would go through a couple of the rides and asked for my thoughts on what I thought could be added for the Haunt. I did just that – I went through the rides and would recommend places they could put ghosts and goblins to pop out as well scenes they could put up.
I did a large painting for one of the rides. I wish I kept a picture of it, but I didn't.
I then did the tickets for the Haunt as well. For several years I designed different tickets for the Haunt so nobody could come back in with an old ticket and try to use it again.
I loved the Halloween Haunt. It was so much fun. I took my daughter and her girlfriends and they were awful popular with the monsters. It was a lot of fun."
Below you will see some of the artwork and preliminary artwork Bob did for the Halloween Haunt. The line art again, captures a different time and place not only for Knott's Berry Farm, but definitely for the Halloween Haunt.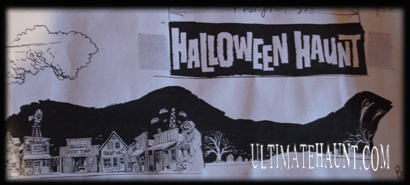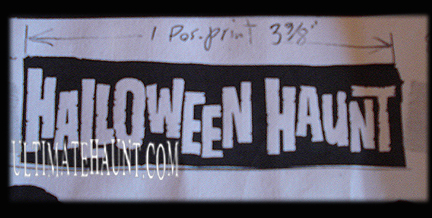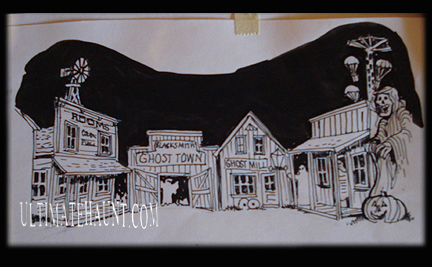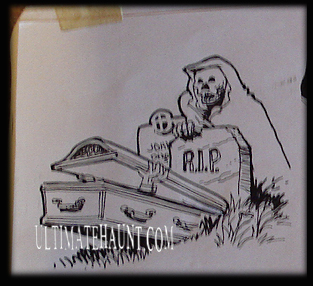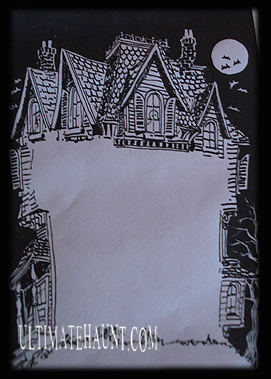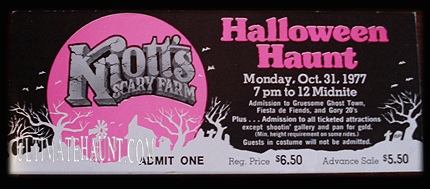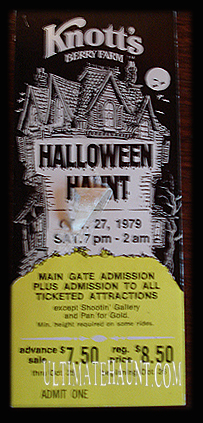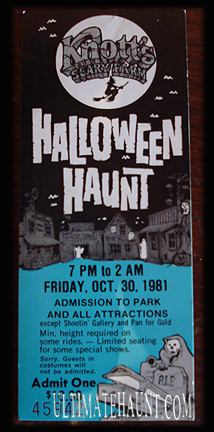 Bob's love for the Old West and themeing not only can be seen in his artwork that he
draws, his entire house, studio and backyard is filled with Old West memorabilia, wonderful antiques, an English Pub, miniature trains and even a barn.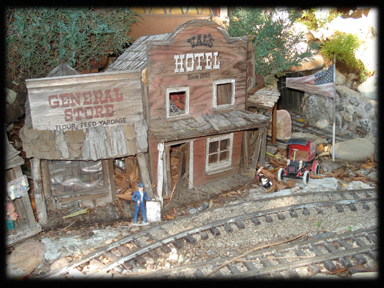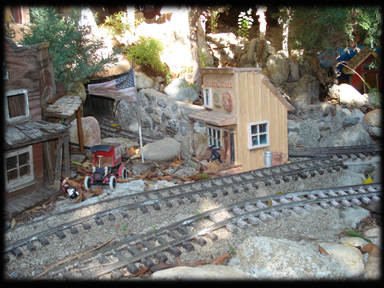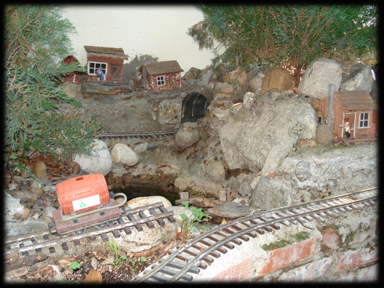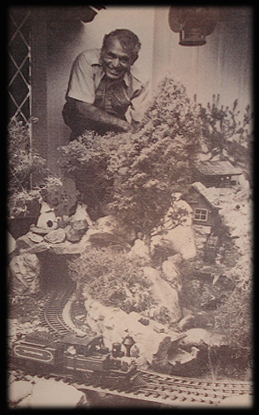 The following pictures are displays of the various artwork Bob Bates did for Knott's Berry Farm: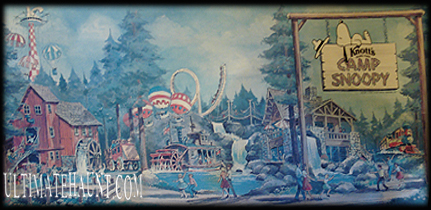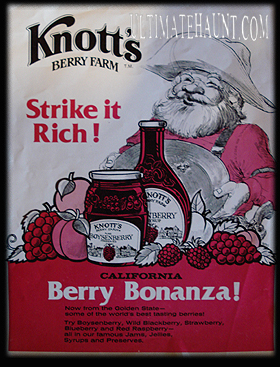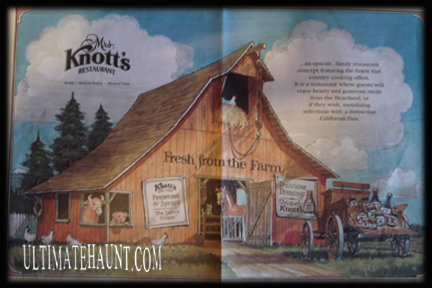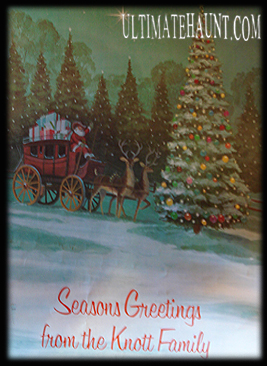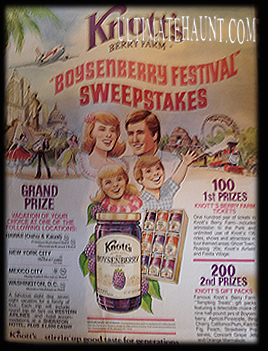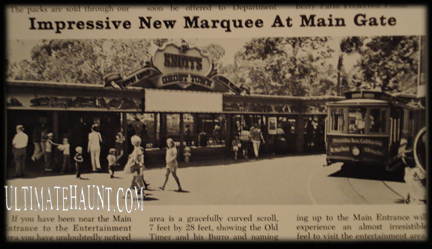 The new marquee making its debut in 1973. Bob Bates is credited with the design and artwork for the marquee.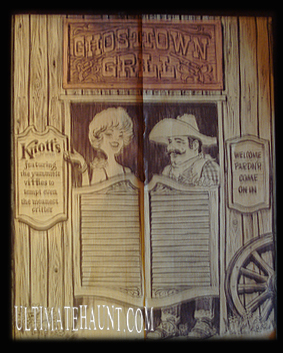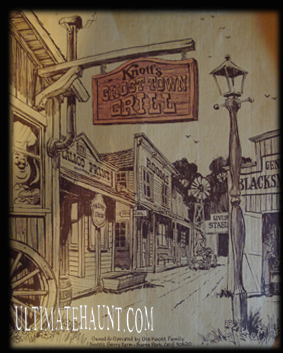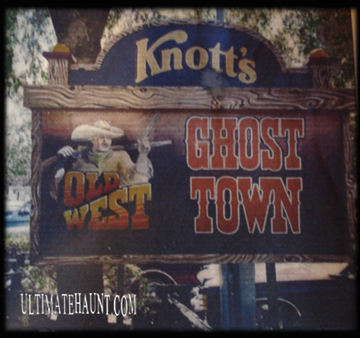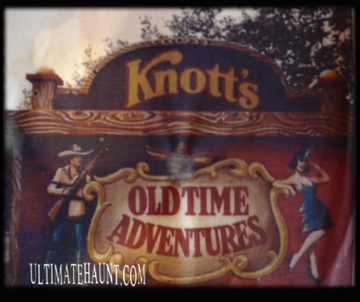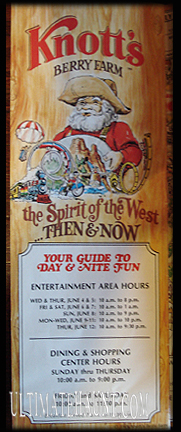 We cannot thank Bob Bates enough for visiting with Ultimatehaunt.com and for taking time to share with us his artwork, memories and house. We would also like to thank our great friend, Mike for playing an intrigral part in us meeting with Bob. Mike, if it wasn't for you, this chapter would not have been told.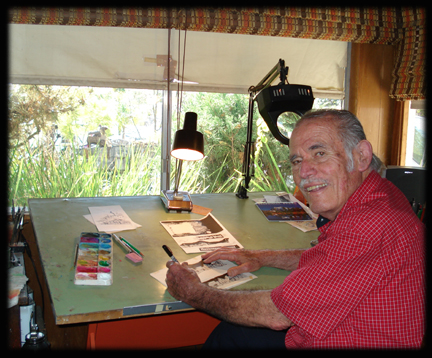 Bob Bates passed away on November on November 21, 2009. Bob's work for the Farm was simply incredible and the logo he created for the Halloween Haunt has stood the test of time. Many hats and T-Shirts and even official advertisements still use that very same logo. Although Bob is no longer with us, Bob Bates lives on through his artwork. Because of Bob's incredible talents and his story with Knott's Berry Farm, this feature has found a permanent home here in the Legacy of Knott's Scary Farm Halloween Haunt. Thank you, Bob.